Home/ - 5 galleries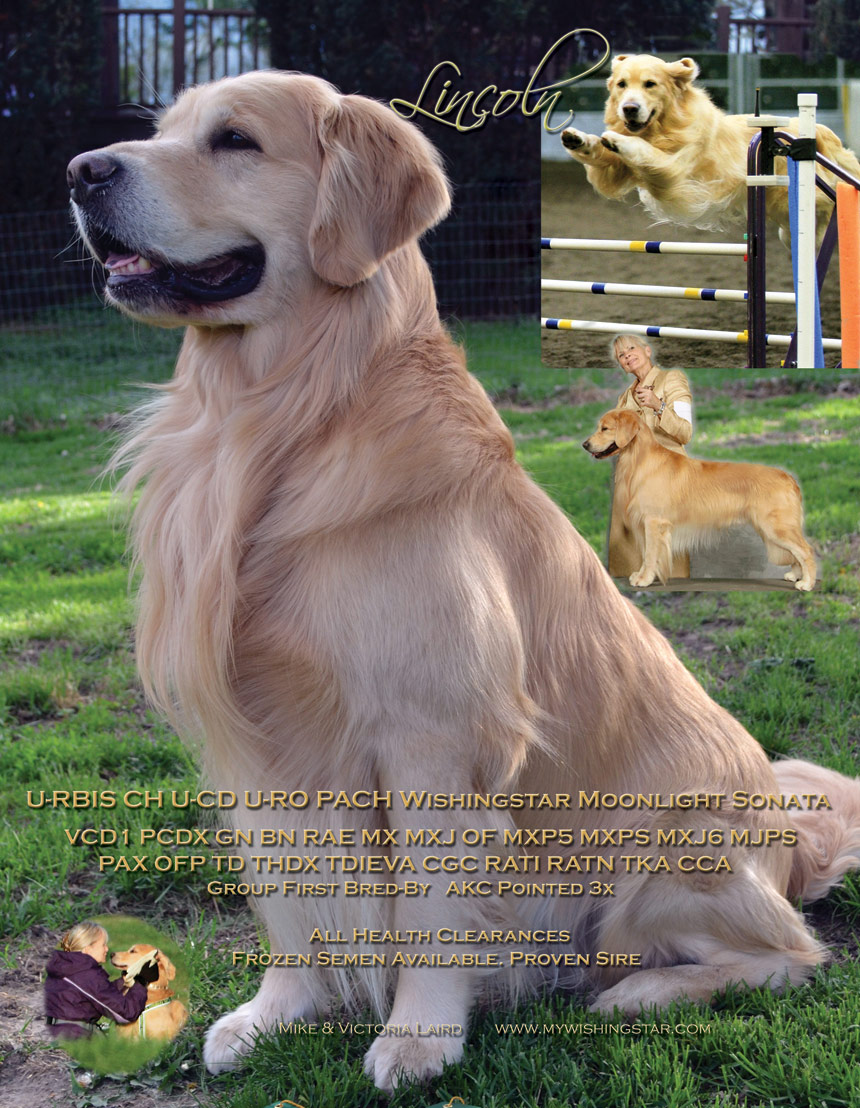 Home of:
PACH UKC CH MABIS RBIS U-CD U-RO1 NN WishingStar Moonlight Sonata VCD1 PCDX GN BN RAE MX MXJ MXP5 MXPS MJP6 MJPS PAX OF OFP THDX TDIG SIN SEN CGC TKA RATI RATN TKI CCA (Lincoln),
WishingStar Moonlight in Vermont BN RN THDA CGC TDIA RATI RATN (Nicholas),
Tanglewood Olympic Gold BN RN THD TDIA CGC (Sophie), and
UKC CH Wishingstar Lyra of Tanglewood CD BN RE NAJ TKE CGC, Lincoln's daughter born May 11, 2017
Lincoln and Nicholas are sired by MBISS Am.& Can. CH Jetoca's Windward Passage Passage SDHF OS or "Gino", a TOP TEN Golden Retriever and out of Tanglewood Olympic Gold BN RN THDN CGC TDI or "Sophie" a combination of imported lines from the United Kingdom, Sweden and Norway. Our original Golden Wishing Star Golden Boy (Wilson) was our beloved companion for almost 14 years. We loved his ornery, spirited, playful ways. He passed away on May 28, 2017 of thyroid cancer one month shy of his 14th birthday. He was a blessing to us.
Our dogs are total family members, and incredible companions!
Our Arabians have an emphasis on versatile performance with a willing attitude and beautiful look. Nigas Lone Wolf (Jet) has been shown successfully in many disciplines the last 10 years including Western Pleasure, Native Costume, English Pleasure and Halter. We had a beautiful little Miniature horse join our family, Utopias Gold Rush, (Magic). He has a long list of wins driving and in halter, and we enjoy giving our grandchildren rides in his cart or on his back.
WishingStar is also the home page artist Victoria Peterson Laird. You can view more of her art at her studio home page of
PetersonLaird.com
.
Victoria's art features portrait art as well as studio art. Her portrait art is in detailed pastels, watercolors, charcoal and pencil. Pet portraits are a specialty. Capture your favorite loved one (human or animal) in a timeless portrait or memorialize one who has passed on. Victoria works from photographs, so distance is not an issue. You can send several photos to work up one composite portrait including different elements from each photo. Prices range from $185 for an 11 x 16" in pastel of one subject to $500 for a large watercolor or pastel portrait with multiple subjects.
Email
for complete details.
Member of The Golden Retriever Club of America, the Arabian Horse Association, the Des Moines Golden Retriever Club and the Equine Artists Guild. WishingStar Arabians and Golden Retrievers is located in Iowa.
Please see our photo galleries below.